Various physiological parameters can be measured in rodents such as mice, rats, squirrels, prairie dogs, porcupines, beavers, guinea pigs, hamsters, rabbits, hares, etc…
For studies using anesthesia, the SA-TCS-6: Complete Small Animal Heater Controller with a 6" x 8"heated bed  can be used to maintain the animal temperature.
[tab: ECG]
To measure ECG  and EMG from Rodents the recommended systems are:
ECG signals can be measured with the IX-BIOx.  Measuring 2 channels of ECG, Lead I and Lead II allows LabScribe software to calculate Lead III, aVR, aVF and aVL .  EMG signals can be measured at the same time as the ECG signals.
Application note on using the IX-BIO4-SA for recording 6 lead Rat ECG.
Application note on using the IX-ECG12 for recording 6 lead Rat ECG.
Analysing ECG's recorded in LabScribe with Kubios HRV
Software:
Videos:
[tab: EMG]
To measure  EMG from mice the recommended systems are:
Technote:
Perform MVC calculations in LabScribe.
[tab: ERG]
ERG
iWorx systems, recorders and software have been used for recording ERGs in rodents and insects as noted in these Citations.
Amplifiers
Differential Amplifier (DP-301) by Warner Instruments
The DP-301 is a single channel AC/DC differential pre-amplifier highly suited for EEG, EKG and extracellular recording.
Differential Amplifier (Model 3000) by A-M Systems
The Model 3000 High-Gain AC/DC Differential Amplifier is designed for low-noise recordings from excitable tissue. Specific applications include EEG, EKG, extracelluar recordings, and more.
Recorders
iWorx IX-RA-834 8 Channel Recorder
The iWorx RA-834 Recorder is the most advanced and feature-rich physiological data acquisition system on the market.
iWorx IX-400 Series Recorders
The iWorx 400 Series recorders are economical, high performance four, eight or sixteen channel data recorders for use with a broad range of analog amplifiers.
Citations
[tab:IBP]
[tab:NIBP]
Non-Invasive Blood Pressure Systems
Invasive measures of pressure are not always possible and, as a result, there may be a need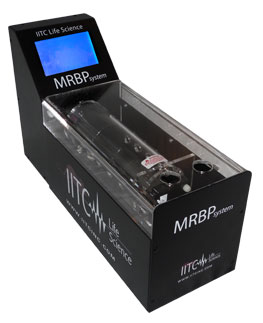 for non-invasive methods to detect pressure. The most widely accepted technique for animals is the tail-cuff method. iWorx offers the new IITC Non-Invasive Blood Pressure Systems for mice and rats. The IITC Life Science tail cuff system is a compact, integrated single unit which includes a warming chamber, restrainer and tail cuff.  The system is controlled by a built in touch screen interface with controls for temperature, test cycle, cuff inflation, cuff calibration and various test parameters.  Up to 200 systems can be daisy chained to record independently or simultaneously.  Data can be downloaded directly onto a USB thumb drive while also being acquired via analog output by LabScribe software for further analysis.  Various sizes of restrainers and tail cuffs are available to suit a variety of research models.
MRBP-M Mouse Blood Pressure System (1 channel)
MRBP-R Rat Blood Pressure Systems (1 channel)
---
iWorx provide a manual Rodent NIBP system.   This is a low cost alternative, for student research or for low throughput studies.
[tab: PVLoop]
[tab: Metabolic]
MC-520Peak and MC-140Peak Small Animal Metabolic Carts
These systems are suitable for recording and measuring Respiratory Quotient, VO2 and VCO2 in small- to medium-size animals. The systems include the IX-Peak recorder and Gas Analyzer,  LabScribe software with the Metabolic Calculations Module and either a 1.4 L or 5.2 L animal chamber.
[tab: EEG]
Citations for measuring EEG in Rats on Google Scholar
Recorders
iWorx IX-RA-834 8 Channel Recorder
The iWorx RA-834 Recorder is the most advanced and feature-rich physiological data acquisition system on the market.
[tab: Citations]
View all citations on Google Scholar( over 275 citations)
Some Sample Citations:
Moyano-Porcile, Valentina  et al, Short-term effects of Poly(I:C) on gut permeability, Pharmacological Research, Available online 2 July 2015, ISSN 1043-6618, http://dx.doi.org/10.1016/j.phrs.2015.06.016.
Moyano-Porcile, Valentina, et al,  "Short-term effects of Poly (I: C) on gut permeability," Pharmacological Research (2015).
Marmorstein, Alan D et al, "Bestrophin-1 influences transepithelial electrical properties and Ca2+ signaling in human retinal pigment epithelium." Molecular vision 21 (2015): 347.
Peña, James R. et al. "Localized delivery of mechano-growth factor E-domain peptide via polymeric microstructures improves cardiac function following myocardial infarction." Biomaterials 46 (2015): 26-34.
Dalziel, J. E., V. Mohan, J. Peters, R. C. Anderson, P. K. Gopal, and N. C. Roy. "The probiotic Escherichia coli Nissle 1917 inhibits propagating colonic contractions in the rat isolated large intestine." Food & function 6, no. 1 (2015):256-263.
Ling, István, Balázs Mihalik, Lori-An Etherington, Gábor Kapus, Adrienn Pálvölgyi, Gábor Gigler, Szabolcs Kertész et al. "A novel GABA A alpha 5 receptor inhibitor with therapeutic potential." European journal of pharmacology 764 (2015): 497-507.
Schwebe, Matthias, Sabine Ameling, Elke Hammer, Judith V. Monzel, Karina Bonitz, Susanne Budde, Kathleen Schult et al. "Protective effects of endothelin receptor A and B inhibitors against doxorubicin-induced cardiomyopathy." Biochemical pharmacology 94, no. 2 (2015): 109-129.
Allwood, Melissa A., Andrew J. Foster, Alicia M. Arkell, Marie-Soleil Beaudoin, Laelie A. Snook, Nadya Romanova, Coral L. Murrant, Graham P. Holloway, David C. Wright, and Jeremy A. Simpson. "Respiratory muscle weakness in the Zucker diabetic fatty rat." American Journal of Physiology-Regulatory, Integrative and Comparative Physiology (2015): ajpregu-00447.
Kaur, Jasdeep, Marty D. Spranger, Robert L. Hammond, Abhinav C. Krishnan, Alberto Alvarez, Robert A. Augustyniak, and Donal S. O'Leary. "Muscle metaboreflex activation during dynamic exercise evokes epinephrine release resulting in β2-mediated vasodilation." American Journal of Physiology-Heart and Circulatory Physiology 308, no. 5 (2015): H524-H529.
McCarroll, Charlotte S., Charlotte L. Rossor, Linda R. Morrison, Liam J. Morrison, and Christopher M. Loughrey. "A Pre-clinical Animal Model of Trypanosoma brucei Infection Demonstrating Cardiac Dysfunction." (2015): e0003811.
[tab:END]