iWorx offers ECG software and complete systems for humans and animals to study ECG in some of the most common lead configurations – 3 lead ECG, 6 lead ECG, 12 lead ECG.
Complete Systems for Animal and Human
Surface and Needle Electrodes Available.
ECG Analysis Module for Quick Analysis
Multichannel Expandable Recorders Available
Measure Multiple Physiological Parameters
Small Animal ECG Solutions
ECG and EMG MultiLead System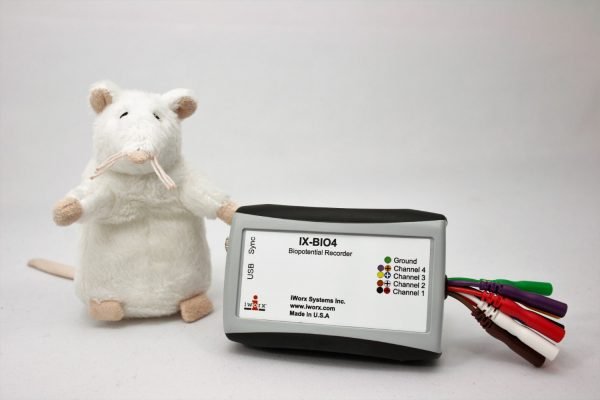 4 or 8 channel IX-BIO-SA system
Ideal for measuring ECG/EMG
Optional Temperature and Event Marker available
12 Lead ECG System
6 Lead ECG System
Neonatal ECG System
Technotes
Accessories
Videos
CITATIONS
550
ECG and EMG papers on
Google Scholar cite iWorx.
Interested in measuring multiple parameters such as ECG, BP, Temperature, Flow, etc… Use our system designer.
Human and Large Animal ECG Solutions
ROAM Wireless ECG and Respiration
Accelerometer optional
8+ Hours of Continuous Recording
20 ft Range
ECG Analysis
RS-ECG6-LA : 6-Lead Dedicated ECG System
Measuring 6 ECG leads
USB powered
ECG Analysis
RS-ECG12-LA : 12-Lead Dedicated ECG System
Measuring all 12 ECG leads simultaneously
USB powered
ECG Analysis
Multilead Biopotential System

4 Channel IX-BIO4-LA large animal biopotential system
8 Channel IX-BIO8-LA large animal biopotential system
Accessories
Technotes
Videos
Interested in measuring multiple parameters such as ECG, BP, Temperature, Flow, etc…