iWorx believes student-driven research enriches any curriculum. Our robust Teaching Kits feature research-grade equipment that make it easy for students to develop and test their own ideas. We also provide compact systems for measuring specific signals.
Student Research Examples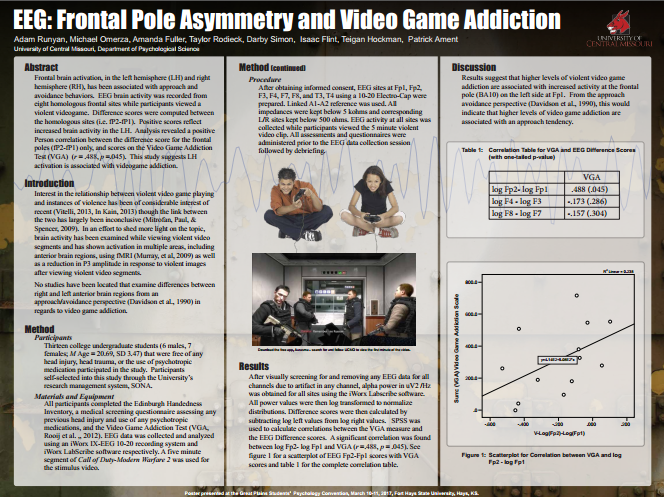 EEG: Frontal Pole Asymmetry and Video Game Addiction
Adam Runyan, Michael Omerza, Amanda Fuller, Taylor Rodieck, Darby Simon, Isaac Flint, Teigan Hockman, Patrick Ament
Department of Psychological Science, University of Central Missouri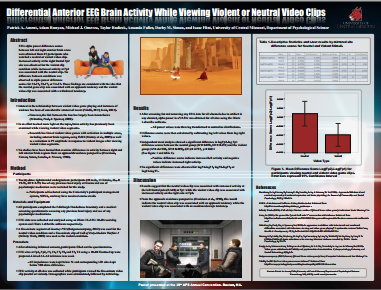 Differential Anterior EEG Brain Activity While Viewing Violent or Neutral Video Clips
Patrick A. Ament, Adam Runyan, Micheal J. Omerza, Taylor Rodieck, Amanda Fuller, Darby M. Simon, and Isaac Flint
Department of Psychological Science, University of Central Missouri
Poster presentations created by Biology students of Dr. Laura Gray Malloy, Professor of Biology, Hartwick College.
The Effect of Postural Position on Respiratory Flow and Ventilation While Treading Water Allyssa Analytis, Biology Major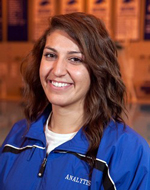 Abstract:Water polo is a sport that requires a quick change in body position. When submerged in the water, operation of the body's respiratory system changes since there is additional pressure on the chest from the weight of the water. Further, treading water, or "egg beater," can affect the respiratory system because bending of the neck and trachea can modify the resistance in the respiratory passages (Pendergast and Lundgren 2009). These observations lead to the question: do postural changes during swimming alter energetic demands of exercise?
Core strength training and its effects on cardiorespiratory functions in young adult males Brandon DuBois, Biology Major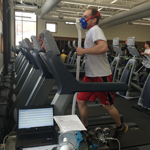 Abstract: Athletes are always striving to make gains in muscular strength and also in aerobic exercise capacities. Hypothesis: An increase in core strength would cause an increase in cardiorespiratory performance. Test: Subjects had their core strength and cardiorespiratory parameters assessed at rest and during exercise both prior to and also post participation in a core strength training program.
Download the poster
Non-Aerobic Exercise and its Effect on Nerve Conduction Velocities (NCV) and Lacrosse Shooting Accuracy Shaun Eichner, Biology Major
Abstract: This experiment is a study on nerve conduction velocity (NCV) of the median nerve and lacrosse shooting accuracy as intense non-aerobic exercise occurs. Because we believed that the peripheral nervous system played a role in shooting accuracy, we studied the median nerve, which controls thumb position during shooting. We found a significant decrease in shooting accuracy, however, NCV's of the median nerve increased in some subjects and decreased in others. Therefore, we reject our hypothesis that decreases in shooting accuracy associated with high velocity sprint is caused by decreases in median nerve conduction velocities.
Is whole body oxygen consumption greater while arms or legs are treading water? Kenny Kleso, Biology Major  sw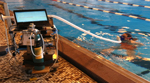 Abstract: Competitive swimming relies on both arms and legs of the swimmer for propulsion at maximum speed. Because legs comprise the greater muscle mass, it would seem that the legs would consume more oxygen. However, one study suggests that whole body oxygen consumption is less when using the arms due to a smaller diffusing area, shorter transit time and larger diffusing distance (Calbet, J. A. L. 2005). These apparent conflicts in research studies led me to the question "If an athlete is treading water vertically at the same exercise intensity, which is more efficient in terms of whole body oxygen demand: remaining afloat using the arms or the legs?"Download the full abstract and poster
The effects of caffeine on swimming performance in correlation with respiratory function Caitlin Reijman, Biology Major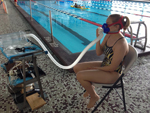 Abstract: Caffeine is often used by athletes to enhance performance, however the magnitude of its effects varies (Rauh, Burkert, Siepmann, & Mueck-Weymann 2006). Little has been done to correlate the effects of caffeine on respiratory function with its effects on performance (Chapman & Mickleborough  2009). The effects of caffeine on swimmers' respiratory function may play an important part in performance enhancement. I hypothesized that caffeine improves swimming performance and that its effects can be explained by the effects of caffeine on both metabolism and ventilation.Download the full abstract and poster
Dr. Laura Gray Malloy, Professor of Biology, has been with Hartwick College since 1999. Her scholarly interests include cardiovascular pharmacology, exercise physiology, research as pedagogy, and understanding the historical role of women and minorities in science.
"iWorx systems have been used in our lab to measure vascular contractility in isolated arteries, cardiac performance in isolated perfused hearts, conduction velocity in ulnar nerves after fatiguing exercise, and excess post exercise oxygen consumption in swim trained athletes as well as ventilation and respiratory quotient in athletes in response to postural changes in water, upper and lower body swim training, cold water exposure, and core body strength training. Students have found the systems easy to calibrate and reliable. I have found the amplifiers nearly indestructible. The extensive array of parameters that can be evaluated with the systems affords greater opportunities for students to ask mechanistic questions and yet still propose projects of their own design."
Professor  Stephanie L. Simon-Dack is an Associate Professor in the Department of Psychological Science at Ball State University. She uses event-related potentials (ERP) and psychophysiological measurement methodologies to examine the neural and physiological correlates of cross-sensory integration and interhemispheric communication.
Physiological Responses to Music: Thomas L. Rohaly: B.S. (Psychology) at Ball State University,  is starting his terminal masters in Experimental Psychology and James Madison University this fall.