iWorx Hybrid Teaching Model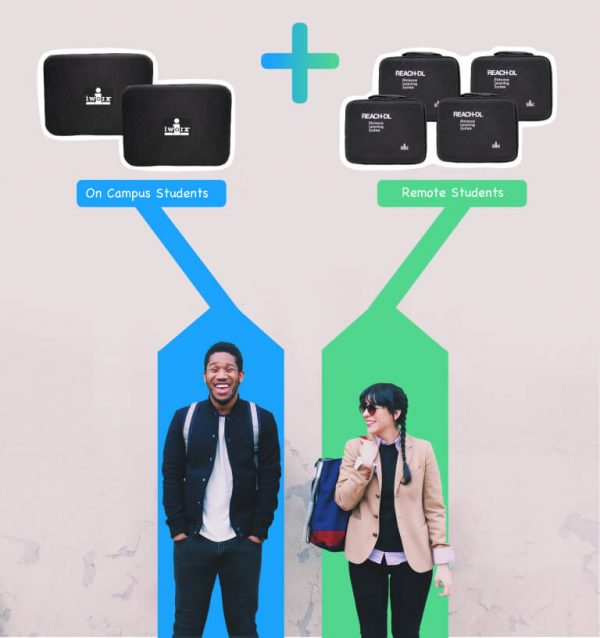 Hybrid learning is an educational model where some students attend class in-person, while others join the class virtually from home. Educators teach remote and in-person students at the same time using tools like video conferencing hardware and software.
In some cases, hybrid classes include asynchronous learning elements, like online exercises and pre-recorded video instruction, to support face-to-face classroom sessions. When planned well, hybrid courses combine the best aspects of in-person and online learning while making education more attainable for many students.
For hybrid learning to be successful, the elements of your hybrid course need to be tailored to the learning format, whether it be in-person or online.
iWorx In Person Class Structure
iWorx equipment is designed for students to work in small groups using the iWorx TR Lab Kits for lab exercises.
iWorx Hybrid Class Structure using the REACH-DL
A Hybrid Model can be used using both the iWorx TR Lab Kit as well as the iWorx REACH-DL Distance Learning System.  Students that are learning in person on campus in the laboratory will use the TR Lab Kit – working in groups of 3 to 4 students.  Students that are learning remotely will complete laboratory exercises using the REACH-DL distance learning system.
The REACH-DL is a home-based lab kit designed for distance learning and online students. The kit contains the sensors, recording software, and write-ups to perform over 15 core experiments.
Each exercise is laid out in a step-by-step, simple-to-use fashion, allowing your students to perform hands-on experiments at home, easily analyze their findings, and generate a report.
REACH-DL Distance Learning System
To ensure your new hybrid course runs smoothly, here are some bonus hybrid teaching tips just for you:
Don't be afraid to redesign. The course map you created is not set in stone, as you move through the semester, lean into the strengths that arise and redesign to accommodate for any weaknesses that get exposed.
Use online work to offer targeted learning plans, extensions, or one-on-one teaching for individual students.
Provide mobile learning options for the online portion of your course.
Be open to feedback, and really learn from your student's experiences.
Don't overload on online assignments, just because they can be completed anywhere doesn't mean they take any less time than face-to-face work.
Integrate the online and the in-person. A successful hybrid course is only as strong as the relationship between its two halves.
Embrace your hybrid community. If you find yourself stuck or frustrated, turn to other hybrid class instructors that you respect: their experience and wisdom are priceless.
Explain the purpose and expectations of your hybrid class clearly and often. If this format is new to you, there is a good chance it is new to your students as well.
Provide students with self and time management tips so they aren't left treading water as soon as they leave the classroom. This is especially helpful for students who have never completed online coursework before.
Connect your students to a trusted IT hotline for any technical issues that may arise.
Other Popular Experiments
HK-TR ROAM Physiology Lab Kit with Wireless EMG/ECG
iWorx HK-TR ROAM Physiology Lab Kit
Teach over 100 exercises in cardiovascular, respiratory, and neuromuscular physiology
Low Noise Wireless ECG/EMG (optional EEG)
Pre-calibrated plug-and-play sensors
Easy-to-use LabScribe software
Built-in spirometer to reduce drift
Fast set-up
Would you like to speak to an iWorx representative?

Give us a call at +1-603-742-2492 or we'll call you. Just email your name, telephone number and a convenient time to call.