Facial EMG can be paired with the LabScribe Experiment Builder and Video capture module. 
Some of the advantages of using Facial EMG are:
It is a precise and sensitive method to measure emotional expression.
It is capable of registering the response even when subjects were instructed to inhibit their emotional expression.
It is able to measure facial muscle activities to even weakly evocative emotional stimuli.
Less intrusive than other physiological measures like fMRI and EEG.
The iWorx ROAM is a versatile, wireless system with 8+ hours of continuous recording, 20ft range provides long-term recording and unrestricted movement.
The RS-EMG enables 4-8 channels of EMG recordings.
LabScribe EMG Analysis Module
Measurements
Muscle Force
Fatigue
Recruitment
Summation
Incomplete Tetanus
Complete Tetanus
H-Reflex
Time Domain Analysis

Recified EMG Data
RMS ( Root Mean Square)
Envelope EMG Data
Filtering
Mean Frequency
Area Under The Curve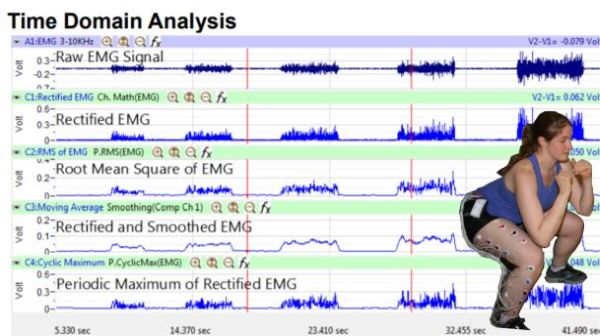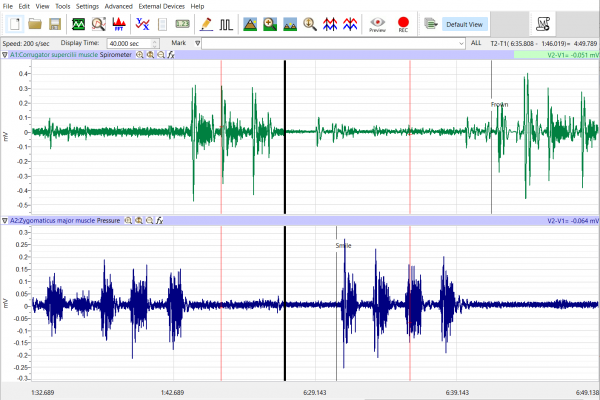 EMG in Dentistry
In dentistry, uses of EMG is more common in temporomandibular joint (TMJ) disorder, TMJ dysfunction, dystonia, orthodontics, implants, occlusion or bite correction, cranial nerve lesion, and assessing muscles of the head and neck at rest and in function.
Surface EMG can be used to study bioelectrical phenomena of muscular contraction. Surface EMG allows the examination of some important muscles involved in chewing, swallowing, and posture of the head (typically masseter, temporalis anterior and posterior, digastric anterior, sternocleidomastoid).
The LS-VIDEO Capture Module for LabScribe Software enables recording video from a webcam or the computer screen, both with or without audio while recording physiological signals from an iWorx recorder.  This module makes it easy to add video to any recording.  Students can follow along with instructor-lead experiments in real-time and see how data is produced.  Researchers can record experiments in real time for publication and presentations.
Interested in more parameters
Choose the measurements and we can help you design a custom system for you.