PC or Mac Computer and USB cable
iWorx data acquisition unit and power supply
1. Use the USB cable to connect the computer to the USB port on the iWorx data acquisition system (such as the IX-TA, IX-400, IX-B3G).
2. Plug the power into the electrical outlet. Insert the plug on the end of the power supply cable into the labeled socket. Use the power switch to turn on the unit. Confirm that the power light is on.
Some systems get their power from the USB connection and do not have their own power supply.
3. Launch LabScribe.
4. It is recommended that you start with a pre-made settings file and make changes from there.
Go to Settings
Choose a pre-made settings file from the list that best matches what you would like to do.
5. Click Edit → Preferences (LabScribe → Preferences on a Mac)
6. Make any changes in this screen.
Acquisition Mode
◦ Chart
◦ Different Scope modes
Start and Stop methods
Sampling Speed
Display Time
Channels
◦ Channel number, Title, Acquisition Mode, Etc…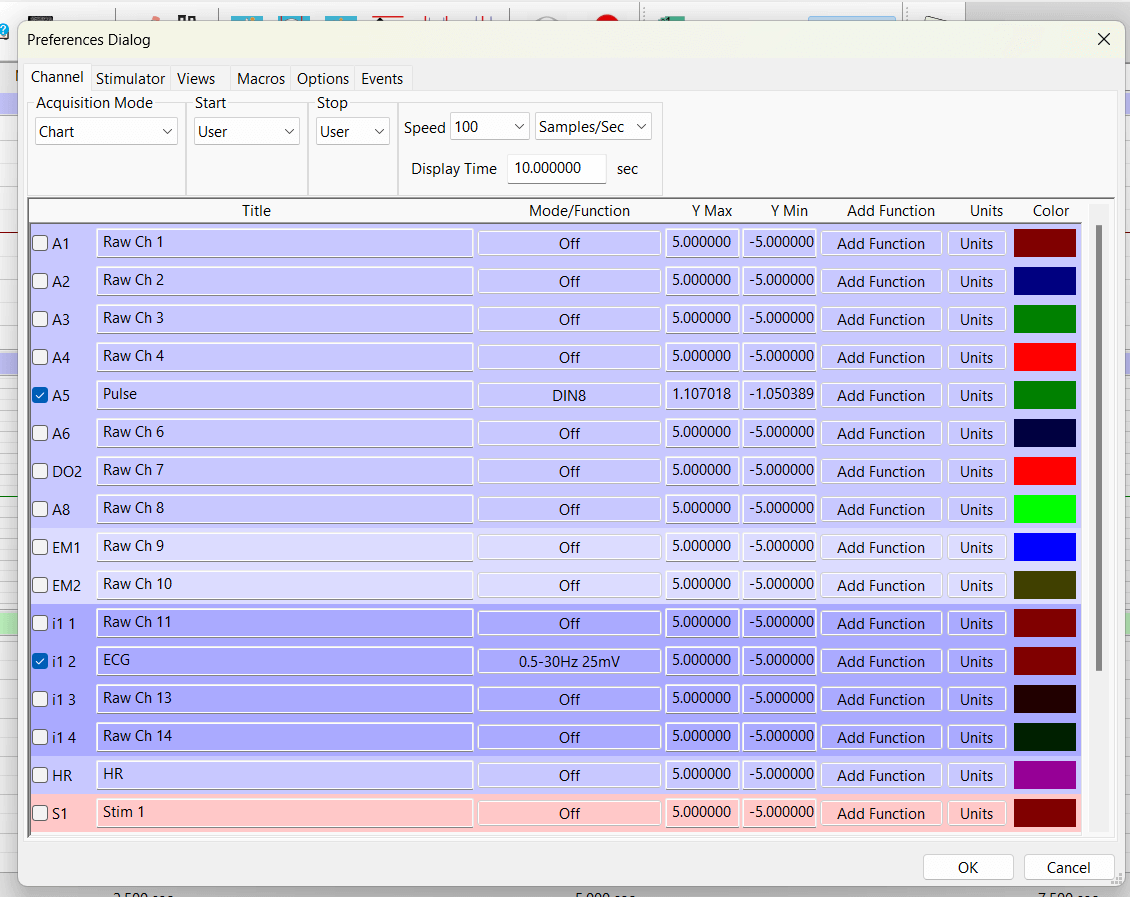 7. Click OK
8. Save your new Settings – click File → Save As →
Name your file
Save it as a .iwxset file (the default is .iwxdata)
Click Save
It is recommended that you save your settings either to your Desktop, Documents folder or to your 'My Settings' folder in LabScribe
Create Your Own Settings Group
If you choose to create an entire settings group:
1. Save your own Settings to the MySettings folder in LabScribe
C:Drive → Program Files → iWorx → LabScribe → MySettings
2. Once you have all your own settings created and saved to this location – to easily access them:
Click Settings
Load Group
MySettings
MySettingsGroup.iwxgrp
Click OK
Go to Settings and all your own lab settings will be listed here
Any additional files (word, pdf, etc) can also be saved in this folder with the same name as your settings file and they will open automatically when the settings file is chosen.